June 3, 2014
Posted by HRP staff and faculty
Dear Graduates,
First of all: CONGRATULATIONS! YOU MADE IT!
Secondly, if we missed each other during commencement, here is what we wanted to say: Thank you. Thank you for the many things you brought to us, in addition to your time and talent. You showed us kindness and humility and curiosity and commitment- qualities that made us proud to work alongside you. We hope you will bring those things with you wherever you go.
Finally, we wanted to send our sincere appreciation to the students who made public service a focus of their time here. A grand total of 16 Clinic graduates performed more than 1,000 hours of community service: Lara Berlin, Tess Borden, Madison Condon, Catherine Cooper, Nathaniel Counts, Alexandra Gliga, Elizabeth Hague, Alysa Harder, Lindsay Henson, Maryum Jordan, Andrew Mamo, Lynnette Miner, Jonathan Nomamiukur, Harin Song, Colette Van Der Ven, and Sarah Wheaton.
Unbelievably, one of our graduates, Jeanne Segil, logged more than 2,000 hours of community service. And three were given the Dean's Award for Community Leadership: Maryum Jordan, Jeanne Segil, and Sarah Wheaton.
Terrific work, Class of 2014. We wish you all the good luck that life has to give.
And now, for the party pictures: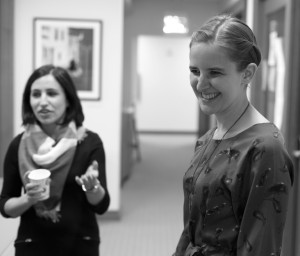 May 28, 2014
Posted by Cara Solomon
This afternoon, during the Class Day ceremony, Tyler Giannini stood up to the podium and accepted from the Class of 2014 the Sacks-Freund Award for Teaching Excellence. It was a thrilling moment for those of us who know him, and work with him, and see this as a tribute not just to Tyler himself, but to clinical education at Harvard Law School.
His speech is reprinted below:
Thank you for this honor. It is humbling—and honestly a bit terrifying—to be here with all of you: with Dean Minow, faculty, staff, friends, parents, and the graduating class. In all seriousness, I am deeply moved to receive this teaching award from you, the graduating class. What has struck me—what continues to strike me—is how strange it feels to be singled out. Perhaps this is because I have always been part of a team in my human rights work—and it has never been more perfectly realized than here with the students and clinicians at our human rights clinic.
In reflecting on today—and I'm a clinician, so you better believe reflection comes with the territory—I thought back, I wondered—how was I crazy enough to start an NGO during my last year of law school, which then took me to Thailand for a decade, and then somehow end up here teaching at Harvard. The answer is clear to me: there have always been others with me along the way. I have never done it alone—never.
Continue Reading…
April 23, 2014
Posted by Human Rights Program faculty and staff
As friends and colleagues of Tyler Giannini, we are thrilled that the Class of 2014 has chosen to award him the Albert M. Sacks-Paul A. Freund Award for Teaching Excellence. All of us appreciate and benefit so much from his vision and commitment to our clinic and program—as a human rights advocate, a clinician, and an innovator in the field and in the classroom. It is wonderful to see his dedication to his students recognized with this award.
Tyler is a rare find, a triple threat: an advocate-teacher-scholar who embraces all these roles and finds in them a harmony that is truly a joy to witness and learn from. Anyone who works with him can sense the passion that he brings to work. It is evident in the emotion, care, and impeccable commitment to quality that he invests into everything he produces, from U.S. Supreme Court briefs to course syllabi to student role-plays. Tyler works this way because he cares deeply about teaching his students to be thoughtful and effective human rights practitioners, and because he believes so strongly in the value of the work that he does each and every day.
We are moved and beyond excited that Tyler has received this well-deserved recognition. We couldn't be prouder of him. Thank you, Class of 2014.