February 6, 2017
Posted by Cara Solomon
As the spring semester gets underway at HRP, we're already missing the fellowship and expertise of one of our colleagues: Fernando Ribeiro Delgado, JD '08, Senior Clinical Instructor and Lecturer on Law, is now a Scholar in Residence at New York University School of Law.
Simply put, this is a big loss for us. Fernando is an expert on criminal justice in Brazil, which has one of the world's worst records on mass incarceration. His clinical work went wide and deep; his teams used strategies ranging from litigation to fact-finding to negotiating with government officials to launching media campaigns.
Beyond the rigor and innovation that was the hallmark of Fernando's work, there was another distinguishing factor: it was always collaborative. Throughout his seven years at the Clinic, he worked closely with local partners whom he considered not just colleagues but mentors: Justiça Global, Serviço Ecumênico de Militância nas Prisões, Pastoral Carcerária, and Comissão Justiça e Paz. He also nurtured relationships with prisoners' families, corrections officials, and members of the media.
Most importantly, as described in the Harvard Law Bulletin last year, Fernando treated people who were incarcerated the way he treated everyone else: with kindness.
At NYU, Fernando will explore the link between state violence and corruption, a link he first documented with Justiça Global in the high-profile, book-length report, "São Paulo under Extortion: Corruption, Organized Crime, and Institutional Violence in May 2006." That joint report, the culmination of a five-year investigation, explored the role of corruption in a series of coordinated uprisings in detention centers and attacks on police and public buildings that left 43 state officials and hundreds of civilians dead. The report also documented the wave of reprisal attacks by police, including extrajudicial killings of people they suspected of having arrest records—in many cases profiling victims' youth, skin color, tattoos and presence on the streets of a poor neighborhood at night.
During his time in the Clinic, Fernando tackled a range of criminal justice issues in Brazil. His clinical team contributed comparative and international law research to a workshop that culminated with federal prosecutors filing the first-ever criminal charges for dictatorship-era human rights crimes. A case he argued before the Inter-American Court of Human Rights (the Court) led to an investigation into juvenile justice system abuses, one which ultimately brought down an alleged corruption ring at the highest levels of state government.
He spent the great majority of his time, though, addressing rampant over-incarceration and abuse in prisons. Continue Reading…
December 5, 2014

Earlier this week, prosecutors took the extraordinary step of filing for judicial measures to decarcerate, reduce overcrowding, and ensure adequate healthcare at the notorious Aníbal Bruno (Curado) Prison Complex in Recife, Pernambuco, Brazil. The request for interdição parcial (partial interdiction) of the pre-trial center cites Inter-American Commission and Court of Human Rights precautionary and provisional measures, respectively, as key motivators. The civil society coalition responsible for seeking and litigating these inter-American protective measures since 2011 is comprised of the Pastoral Carcerária (Catholic Prison Ministry), the Serviço Ecumênico de Militância nas Prisões (Ecumenical Service of Advocacy in Prisons), Justiça Global (Global Justice), and the International Human Rights Clinic at Harvard Law School.
Aníbal Bruno is one of the largest prisons in Latin America, and among the most abusive; it detains nearly 7,000 men in space officially designated for roughly 2,000. According to the prosecutors, "[t]he situation of overpopulation and overcrowding [at Aníbal Bruno Prison] runs counter to the model contemplated in the American Convention on Human Rights (Pact of San José, Costa Rica) adopted 11/22/1969 and which Brazil ratified by means of Decree n. 678, with force of law in our State since 11/25/1992."
Prosecutors requested 11 measures. Among them are limits on new entries to Aníbal Bruno Prison and transfers of qualifying prisoners out to halfway detention facilities (regime semiaberto), house arrest, or electronic monitoring. Prosecutors further asked for a daily computerized accounting of healthcare needs and treatment dates, as well as judicial review of any inability to schedule or receive medical attention. The filing also requests monthly monitoring meetings involving a host of institutions.
"We welcome the partial interdiction request as an important step in the right direction, though it falls well short of what is required, given that Aníbal Bruno Prison is fully, not partially, unfit for human habitation," said Clinical Instructor Fernando Ribeiro Delgado.
The Pernambuco Prosecutor's Office (Ministério Público) previously relied on the work of the civil society coalition in a 2012 inquiry into abuse at the prison. The Office noted then that, "if it were not for the courage and determination of [coalition] members, nothing that was here collected, such as hard-hitting evidence of practices of torture and ill-treatment, whether physical or psychological, would exist."
Judge Luiz Gomes da Rocha Neto, responsible for evaluating the partial interdiction request, said he would make a statement in response today.
UPDATE: The judge confirmed receipt of the filing on December 5 and stated that the government would be given a short window to reply before he makes his decision. He also announced a future judicial inspection of Aníbal Bruno in light of the prosecutors' request.
August 21, 2014
Posted by Cara Solomon
One of Brazil's biggest daily newspapers quoted Clinical Instructor Fernando Ribeiro Delgado this past Sunday in an in-depth cover story on criminal code reform. The article in the Folha de São Paulo presents perspectives on a proposal gaining steam before congress that would harden criminal sentencing and close off several avenues for early release.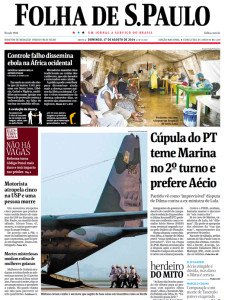 Delgado warns that Brazil is "following the path of failed crime policies," drawing reference to U.S. "war on crime" laws that produced skyrocketing incarceration rates, a comparison he discusses further in a companion piece that ran in the Folha the same day. Delgado points to one prison in particular, Aníbal Bruno, as "a symbol of the catastrophe of mass incarceration underway in Brazil." Though officially designed to detain some 1500 men, Aníbal Bruno Prison now commonly holds over 6000.
The Folha piece has an entire subsection based on a 2013 brief co-authored by the Clinic in the Aníbal Bruno Prison case, which is currently before the Inter-American Court of Human Rights.
The Clinic has been working for the past four years with a civil society coalition in Brazil to push for widespread reform in Aníbal Bruno Prison and beyond. This past May, the Inter-American Court issued its first legally binding resolution in the Aníbal Bruno case, ordering Brazil to take provisional measures to protect the life, personal integrity, and health of all persons at the prison. The order also mandates steps to reduce over-crowding and end the routine practice of strip searching family visitors at the notorious pre-trial detention center. The coalition is currently focusing efforts on monitoring the implementation of the order. A first set of periodic reports are due to the Court in the coming months, and a meeting between the parties and state agencies is scheduled for August 28 in Recife, Pernambuco, Brazil.