January 27, 2021
Posted by Bonnie Docherty
At the stroke of midnight on January 22, 2021, the Treaty on the Prohibition of Nuclear Weapons (TPNW) was transformed from words on paper to binding law. States parties — countries that have have agreed to be bound by the treaty — are now obliged to uphold a ban on nuclear weapons, take measures to ensure the weapons' elimination, and address the harm caused by past use and testing. Signatory states may not violate its object and purpose.
The TPNW's entry into force, triggered last October when Honduras became the 50th state to ratify, is a milestone for humanitarian disarmament, a crucial step toward a world free of nuclear weapons, and an uplifting moment in the midst of a devastating pandemic.
This landmark moment also offers an opportunity to look back on negotiations at the United Nations in New York in 2017. The hard work, determination, and collaboration of hundreds of individuals made the TPNW a reality.
My colleague Anna Crowe LLM'12 and I participated in the negotiations with a four-person team from Harvard Law School's International Human Rights Clinic. The students included Carina Bentata JD'18, Molly Doggett JD'17, Lan Mei JD'17, and Alice Osman LLM'17.
At a reunion celebration last week, our team reflected on the experience and shared memories that will likely resonate with our fellow campaigners. "Witnessing the treaty's adoption was overwhelming," Mei said. "It felt like a key moment in my life. Even though it wouldn't affect me personally, it was monumental."
During the four weeks of negotiations, we partnered with the International Campaign to Abolish Nuclear Weapons (ICAN), which later received the 2017 Nobel Peace Prize for its efforts. We engaged in advocacy and offered legal advice on a range of topics.
While negotiators devoted much of their attention to the TPNW's prohibitions on future actions, we focused on the treaty's positive obligations, affirmative requirements to mitigate the harm already inflicted by nuclear weapons. In partnership with campaigners from Article 36, Mines Action Canada, and Pace University, we argued successfully for obligations on victim assistance and environmental remediation. This group became known as ICAN's "pos obs team," after the positive obligations for which we were calling.
Continue Reading…
October 1, 2019
From October 1 through October 8, 2019, the South Lobby of Wasserstein Hall showcases a photo exhibition that documents the impact of nuclear weapons and recent progress toward their elimination. The exhibit focuses on the devastation caused by early use and testing of these weapons and civil society's role in producing the 2017 treaty that bans them.
Bonnie Docherty, Associate Director of Armed Conflict and Civilian and Lecturer in Law at the International Human Rights Clinic, organized the exhibit. Her introduction is reproduced below in its entirety.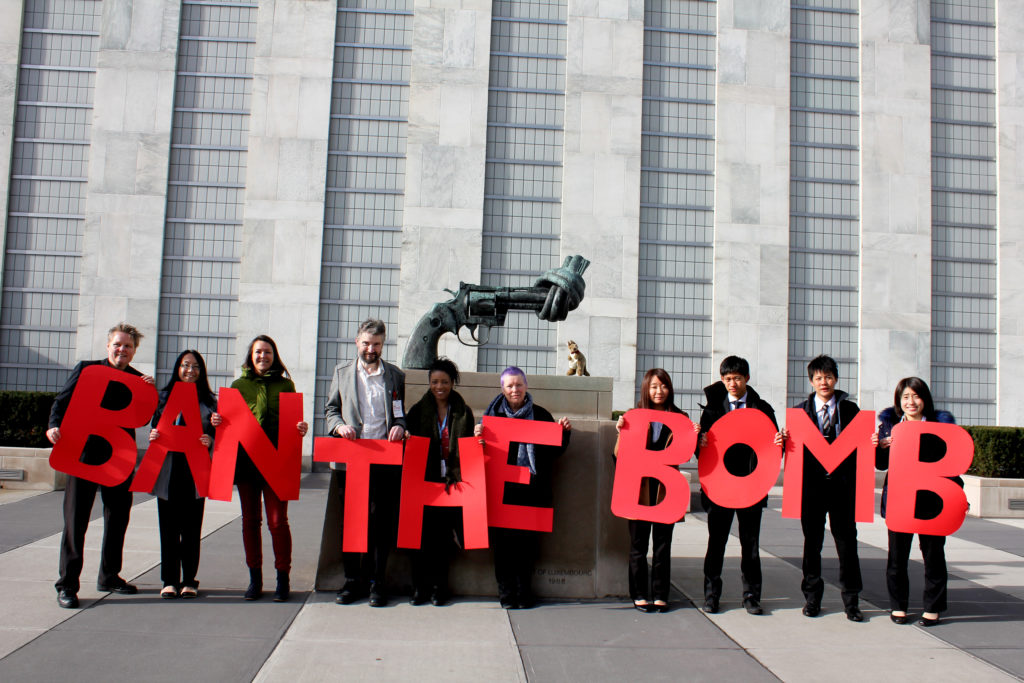 The exhibit is co-sponsored by the Armed Conflict and Civilian Protection Initiative, Hibakusha Stories/Youth Arts New York, and HLS Advocates for Human Rights.
---
Continue Reading…